Why is Summer Training Importance for B. Tech. Students?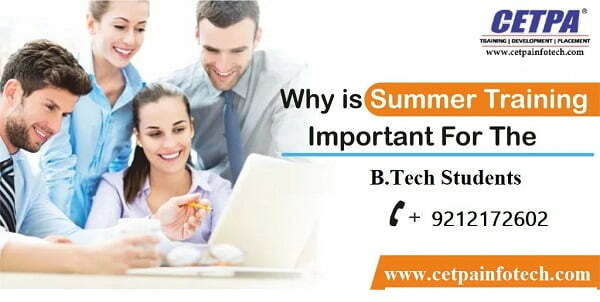 After completing graduation from schools, engineering is still one of the most challenging and forthcoming options for students. Aspiring students put all their labor into obtaining this degree. But day by day, the competition is increasing. In addition to qualifying for regular academic exams and completing other academic projects, they need to focus on the summer training too. In the engineering field along with a degree, in-depth practical knowledge of the subject is crucial.
Summer training plays an important role in engineering student's lives. Every student should be serious about it. Today, competition in the labor market is increasingly tougher. It is important to pass semester examinations but summer training upgrades your technical knowledge and gives industrial exposure. So all engineering students need to enroll in the Summer Training Institute In Noida.
Let's understand summer training importance more deeply-
1- Improves Practical Knowledge: As we all know that, college life provides you theoretical knowledge, Summer Training is important for practical understanding of theoretical knowledge. Through summer internship training you able to apply it to real-life circumstances by making practical projects. It will, therefore, serve you to become a good engineer.
2- Provides Industrial Exposure: With the endorsement of Summer Training, you become aware of how industries work and what general things are being followed there. You get hands-on experience through real-life projects addressing the industrial issue and make you improve your industrial understanding, thus making you an industry-prepared engineer.
3- Polish your knowledge of interdisciplinary matters: If you want to become conscious about how businesses work and what usual actions are being followed, then summer training is the best option. Summer Training gives you practical experience on real-life projects dealing with problem statements on current issues and permits you to enhance your knowledge of the respective sector, making you a candidate ready for the sector.
4– Envelop Interpersonal Skills: From a job perspective, it is equally important to develop soft skills and enhance technical skills, and summer training for B.Tech helps better your soft skills and communication skills. These summer training programs make you develop a project as a team that enhances your team working skills as well as leadership quality.
5- Helps to find out your region of interest: Many times, many people confuse while choosing a particular technology for learning. Summer Training helps to expose you to a specific technology and makes you conscious of its wide range of industrial applications. Knowing your region of interest will assist you to grow more and become a passionate engineer in developing the required abilities.
Conclusion-
If you're also pursuing B.Tech. And finding ways to polish your technical and soft skills and want to find a fresh job, join CETPA INFOTECH PVT. LTD. You will be provided with training and placement service by the No.-1 organization of Delhi-NCR. During training, you will deal with projects so that you will get opportunities for doing an internship after completing the training. CETPA provides all-new technical training programs. In addition, you will have the chance to work on live projects and guaranteed Placement assistance. You can develop and add various skills to your resume through Summer Online Training.