Top 5 Reasons To Get Microsoft Azure Certification For Successful Career In Cloud Computing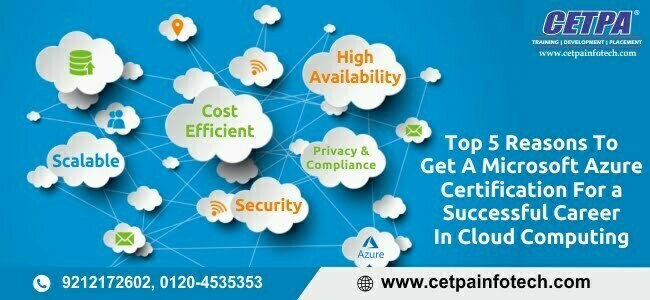 Microsoft Azure is one of the top market leaders as a private as well as a public cloud vendor. Azure offers access to a broad range of pre-configured services. It allows users to use and pay for the services of their choice. The cloud platform provides a combined set of IaaS and PaaS abilities, consisting of machine learning, artificial intelligence, security, Internet of things, analytics, and DevOps technologies.In this post let's discuss What is Azure? An Introduction to Azure.
AZURE TRAINING
To obtain Microsoft Certification, one need to enroll for Microsoft Azure Course, either directly from Microsoft or from any reputed private training company. For newcomers, Microsoft Official Curriculum could be a great option to begin with the Azure basics. Microsoft directly provides some assistance to working professionals with some eBooks etc. through the MVA (Microsoft Virtual Academy). Over time, Azure certification had experienced numerous improvements too. Now, the certification path of MS Azure is added modular with the requirement to improve IT infrastructure management skills, particularly Windows Server. Some exams directed at Azure certifications are:
Exam 70-533 – Implementing Microsoft Azure Infrastructure Solutions
Exam 70-532 – Developing Microsoft Azure Solutions
Exam 70-534 – Architecting Microsoft Azure Solutions
5 Reasons To Get A Microsoft Azure Certification
The benefits of choosing Azure cloud are many. Not only is Azure cost-effective, but it is also highly available and scalable. Moreover, since it is a Microsoft product, close integration with Windows and other Microsoft products are present across Azure's product lineup. Hence, enrolling for Microsoft Azure Training Course in Noida is beneficial for you:
Let's discuss the top reasons why you should get Microsoft Azure Certification:
 1 High Availability
The first expectation of any organization today would be a global reach. Many companies rely entirely on centralized data centers. With Microsoft's global presence, Azure can increase the reach of a company's infrastructure while offering redundancy across geographies.
2 Cost-Efficient
Similar to other cloud services, using Azure allows companies to save on infrastructure costs. Where companies previously paid upfront for server-grade infrastructure, Azure offers a pay-as-you-go pricing model.
This model allows small and mid-sized businesses to manage their IT budgets more efficiently by letting them purchase only the services they require. Microsoft Azure also enables organizations to save on infrastructure costs by enabling them to launch customer apps plus business apps in the cloud itself.
3 Scalable
Owing to the large amount of backing architecture that Azure offers, companies can scale their infrastructure up and down as they require. For scaling up, they do not need to pay upfront for new services or products. For scaling down, companies do not incur losses when selling hardware.
This makes it very easy to scale compute power up or down with the help of Microsoft Azure. Thanks to this scalability, businesses have the advantage of being flexible to pay for only the services that were used.
Must Read Now: AWS V/S Azure – Which One's Is The Right For Your Career In Cloud Computing?
4 Security
Microsoft Azure was designed with a focus on security based on the standard security model to detect, assess, diagnose, stabilize, and close. Azure is equipped with multi-level protection to protect data from ever-emerging security threats. The Azure environment is protected with a range of tools, such as Advanced Threat Analytics, Threat Intelligence, and Azure Information Protection. The platform offers increased protection with the help of user-friendly measures, such as app passwords and multi-factor authentication.
5 Privacy and Compliance
The data stored on Microsoft Azure is compliant with data regulations. The cloud platform is built, keeping in mind the security and privacy demands of organizations today. It is one of the most comprehensive cloud compliance coverage, with Microsoft claiming to offer more compliance than any other cloud service provider.
TO SUM UP
Microsoft Azure is an all-around cloud service that enables users, both individual developers and businesses, to maximize the effectiveness of their methods and benefit from its cost-effectiveness. It is suggested that you invest time and energy in obtaining a certification in this technology by joining Azure Certification Course in Delhi to streamline your business operations and reach new heights of success. An Azure Certificate is sure to help you get noticed among other interviewees. It's a great way to validate your Azure skills with industry-recognized certifications. The right certification enables you to develop and polish your skills as well as to get hired more easily.