Know Basics About Big Data Hadoop Before You Join The Training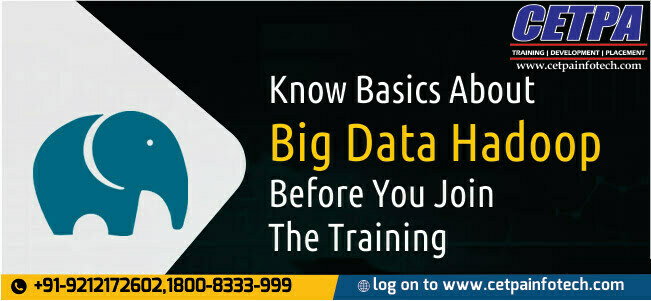 Technology has transformed its landscape. Everything you may hear today is revolving around some big terms which include big data, AI, cloud, data science, etc. To put it in a different way IT professionals are following the trajectory of these booming technologies.
Big Data is something that has taken a tremendous momentum in the last few years. And when we talk about big data, Hadoop is the ultimate word that comes to mind. No other big data processing tool has achieved such market popularity than this open source tool from Apache. However, Hadoop is a developing field with continuous upgradation and added characteristics as well as members in its ecosystem. Therefore, it becomes crucial for beginners to know the Hadoop basics before joining the big data Hadoop training in Noida. In this article, we will discuss some of the basic concepts of Hadoop
WHAT IS HADOOP?
Hadoop is the Java-based framework for programming which is primarily for storage and for processing of extremely massive datasets in the distributed computing environments.  Apart from this, it is also an open source framework and is part of the Apache project (internally sponsored by the Apache Software Foundation).
CATEGORIES OF BIG DATA:
On a wider way, Big Data can be divided into 3 categories as described below:
Structured Data: It can be classified as that category of data which can be accessed, stored and processed in a fixed format.
Unstructured Data: It can be classified as that category of data which has no known structure or form, being heavy in size is also another characteristic of this classification.
Semi-Structured Data: Semi-structured data is a combination of the data in the forms described above and the most convenient data that we can classify as semi-structured data is the data available in XML files.
PREREQUISITES FOR LEARNING HADOOP
Before joining big data Hadoop training in Delhi, it is essential to have knowledge of some concepts which are as follows:
Java: Since Hadoop is basically written in Java, you need to at least have the basics of this programming language to get your hands dirty with.
Linux: Hadoop most basically is run on Linux for yielding better performances over Windows, so considering that basic knowledge of Linux will suffice and more the merrier.
Big Data: Though this is not a definite requirement to learn Hadoop framework, an individual has to definitely understand where he/she is stepping into.
Once you have a good understanding of the above 3 points, then you can proceed to join Big Data Hadoop Tarining in Noida.
KEY FEATURES OF HADOOP
Features one has to know before joining the training are mentioned as below:
Flexibility in Data Processing: One of the huge challenges that companies had in past been the task of handling unstructured data. Hadoop handles structured, unstructured, coded, encoded, formatted, and any other type of data. Hadoop makes it likely that an unstructured data can be helpful in the decision-making process.
Easily Scalable: It is one of the important features of Hadoop because it is an open-source platform and works on company-standard hardware which makes Hadoop scalable platform to a very great degree where nodes can be simply added in the system as and data volume of processing needs grow without altering anything in the existing systems or programs.
Fault Tolerant: Hadoop stores the data in HDFS where the data automatically duplicates at two other locations. Thus, even if one or two of the systems collapse, the file is still accessible on the third system which brings a high level of fault tolerance.
Very Cost Effective: It creates cost benefits by bringing massively parallel computing to commodity servers, resulting in a substantial reduction in the cost per terabyte of storage, which in turn makes it reasonable to model all your data.