Join Summer Training at Cetpa And Feel The Difference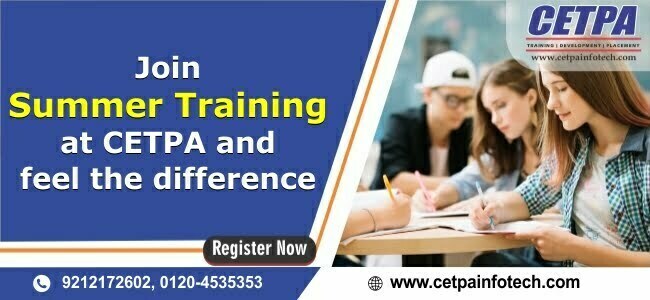 CETPA No.1 Training Company in Noida which is certified by ISO 9001:2008. CETPA InfoTech an efficient Training company constantly working towards imparting the best career to the students.
CETPA has a tie-up with various Engineering colleges for those students who are interested in Summer Training. CETPA aims to train students on different platforms with live projects and ensures in giving high-quality IT training institute in Noida. CETPA trains the students on the latest technologies in IT. Summer Internship is important for the technical students in their academic as well as professional growth.
CETPA Trainer is very proficient in their skills and makes students experts in their learnings.CETPA Trainers clear students' doubts and get new ideas with the help of summer training, and make them  confident. If someone is looking for quality training, he/she must visit CETPA InfoTech to feel the difference.
CETPA makes the students face the challenges of the industry. CETPA provide 100% placement assistance to their students in their career growth. Well, Equipped Labs and Excellent Infrastructure.
Technologies used at CETPA training Company-
.NET, J2EE, PHP, Oracle, Software Testing Advance Networking (CCNA/ CCNP/MCITP ), Embedded System & VLSI Design (Embedded in 8051/ Embedded in PIC/Robotics (using AVR)/ ARM/ VHDL/ Verilog HDL/System Verilog/RTOS/ Device Driver with Emb Linux), MATLAB, Industrial Automation (PLC & SCADA), Wireless & Telecom, Mechanical Designing (CATIA, CREO (Pro-E), AutoCAD & Solid Works) & Civil Designing (Auto CAD & Staad.pro)
Eligibility – M.Tech/MCA / B. Tech./B. C. A / B.E /M.SC (IT & CS).
Period of Training: – Six weeks to six months training
Students can get the training in five branches of CETPA which are –ROORKEE, NOIDA, LUCKNOW, DEHRADUN, AND MEERUT.