How to Transition Into a Career as a Devops Engineer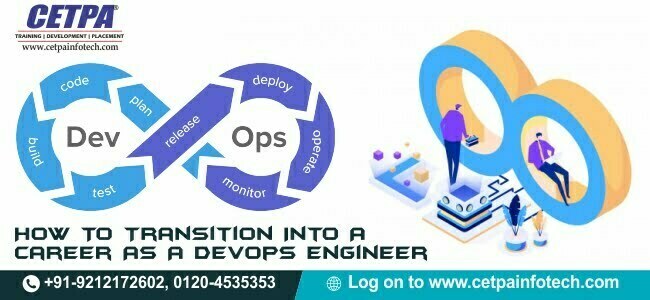 DevOps, as the name suggests, is a combination of development and operations. The applications of DevOps in software development receive wide acceptance due to its flexible nature. DevOps helps in building a clear relationship between IT operations and development.
So, many IT professionals prefer a DevOps career due to its massive potential for long-term growth and adoption. However, many people do not have clarity before entering a career in DevOps. Therefore, the following discussion aims at outlining important things before making your career transition into DevOps:
A Clear Understanding of DevOps
The first thing you should focus your attention on is an understanding of DevOps. When you are pursuing a career in DevOps, it is imperative to know exactly what DevOps is and what it is not! DevOps is a movement or culture shift in application or software development.
Obtain Certifications
Certifications, as well as training and development programs, could contribute substantially to the resolution of skill gaps. Certifications are useful for the development of your skills and presenting a credible reason for employers to hire you. So, even if you are a fresher, you can gradually build your career path in DevOps gradually by joining DevOps Course in Noida and obtaining Certification.
Master Crucial Technologies
The technologies for DevOps career should also be on your priority list before choosing your career path in DevOps. You need to specialize in different technologies for addressing your job requirements efficiently. Aspiring candidates for DevOps beginner career should learn the fundamental technologies that they will use in their jobs.
You have to cover the basics of the operating system, scripting, cloud, containers, and programming languages thoroughly. Enrolling DevOps Training in Noida will help you in learning about these technologies. Candidates should also learn about a particular language ideal for scripting purposes.
Must Know: What is DevOps? The Ultimate Guide to DevOps
Move beyond the Comfort Zone
The support of certifications would not be sufficient for starting a career in DevOps. Candidates also need to focus on cross-training for gaining skills beyond their comfort zone. As developers, you can have tendencies to rely on operations professionals when transitioning to a career in DevOps.
Making Use of Training Courses
Candidates preparing for a career in DevOps are right in wondering 'is DevOps good for freshers?' However, you can take note of the various DevOps Course in Noida that can help fresher prepare for a career in DevOps.
Final Words
On a concluding note, DevOps fresher career presents promising opportunities for a flourishing career. However, it is also important for every candidate to develop the right skills and mindset for a career in DevOps. If you are already on the path to a career in DevOps, then you must have focused on some of these tenets mentioned above.