Artificial Intelligence And Its Influence On Jobs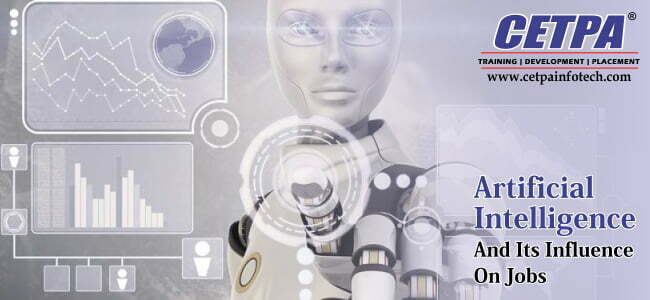 Though Artificial Intelligence significantly improves our world in different ways, there are striking concerns about the anticipated impact of A.I. on employment, jobs, and the workforce. There are forecasts talking about millions of people going unemployed in the next decades — essentially due to the impact of A.I. systems and Intelligent Automation. In any situation, the entire socioeconomic system is entering a period of accelerating transformation: businesses, government, markets, social welfare, education, and employment models will be seriously impacted.
To be more precise, AI technology will change the business world in three aspects: intelligence, automation, and creation. In the financial domain, it will make some jobs redundant, while at the same time enhancing efficiency and generating jobs. To learn how AI will have an Influence on future jobs, one can join artificial intelligence online training course. You can also read this post in which we will discuss how AI will impact jobs and employment.
TASKS, ROLES, AND JOBS AT RISK
Tasks that are monotonous can be smoothly automated; this can continuously make certain roles out-of-date. For example, tasks and activities associated with call center operation, customer care, document classification, content moderation discovery, and retrieval, are more based on automation and technology and less on human work.
The same is true for roles associated with the operation and support of factories and production lines: humans are being replaced by smart robots that can carefully navigate the space, find and move objects (such as products, parts, or tools) or perform complicated assembling operations.
SECTORS THAT WILL BE IMPACTED
Transportation is already in the transformation form— fully autonomous cars will be soon a reality — and they will be more efficient, safer, and more effective.
Electronic commerce will also undergo a crucial transformation: fulfillment centers will be entirely automated, with robots navigating the space to obtain products and complete customer orders; to be then sent or even given to clients, also automatically, with autonomous drones and cars.
Financial Services, Insurance, and any other sector needing a significant amount of data processing and content handling will also benefit from A.I. And of course governance, states, and social mechanisms — A.I. can have a big role in reducing bureaucracy, promoting the service to citizens, along with the design and performance of social programs.
Also Read: What Is Artificial Intelligence And Its Importance For The Career Perspective
GETTING READY
In the long run, we will see certain jobs and roles becoming less and less important, and eventually obsolete. But, in most matters, Artificial Intelligence will have a supportive role to humans — enabling the human factor to perform adequately in handling difficult and critical situations that demand judgment and creative thinking. In parallel, there would be diverse new roles and specialties with a focus on science and technology. To take benefit of these, you can join artificial intelligence training in Noida.
For instance, there will be a requirement for highly skilled professionals to manage or oversee or coordinate the training of complex Artificial Intelligence systems; to guarantee their integrity, objectivity, security, and proper use.
Under some assumptions, and following the initial disruption due to technological unemployment, the AI revolution will start a new era of creativeness, prosperity, and well-being. Humans will no more need to perform limited value, routine, jobs. The workforce and the underlying employment, models, will move from long-term, full-time employment agreements, to selective, flexible, premium services offerings.