5 Reasons Why Data Analytics is Perfect-fit for Professionals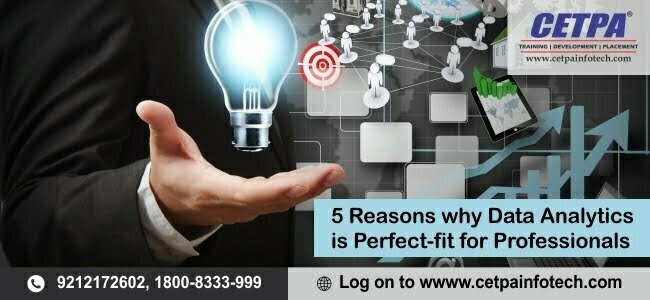 Big Data Analytics—undoubtedly the hottest skills controlling modern job markets, serves to be the appropriate career choice for many. Given below are 5 more reasons which prove why Data Analytics is perfect for you.
1. Analytics Professionals Are In High Demand
Data gets useless unless we have proficient professionals to examine it. With the large increase in data, the requirement of the hour is to have experienced professionals who could examine as well as organize these large chunks of data hence, there is a rapidly increasing demand from the companies to employ skilled Data Analytics professionals.
2. Filling the Demand Supply Gap
With the rapidly rising demand for skilled Analytics professionals taking a steep upward graph continuously, there now exists a deep demand and supply shortage in the professional job market which has now become a worldwide phenomena simply due to the fact that there are not enough skilled professionals to cater to the organizational demands. With companies currently outsourcing their work, the demand is now going to increase rapidly. To take advantage of this rapidly increasing demand, you can consider joining Best Data Analytics course in Noida.
 3. Increasing Demand of Analytics Professionals In Global Organizations
Big Data Analytics still rank at the top on the priority list of organizations looking for vigorous and long-term enhancement in their operational methods and overall performance levels.  Moreover, the Big Data Analytics is able to bring forth various beneficial business insights and is beneficial for recognizing varied sales/market opportunities. In fact, many companies motivate their employees to go for best Analytics course.
Must Read: Facts That You Should Know About Data Analytics
Various Career Options
When we talk about career choices, there exists numerous opportunities to choose out of:
Big Data Analytics Business Consultant
Big Data Analytics Architect
Big Data Engineer
Big Data Engineer
Big Data Solution Architect
Big Data Analyst
Analytics Associate
Business Intelligence and Analytics Consultant
Metrics and Analytics Specialist
4. Big Data Analytics: The Central Point in Decision Making
Analytics is the central point of competitive resource for many companies and would only steeply increase in the next three years as there still exists a huge amount of data that still needs to be used and what has been done yet is only rudimentary. Hence, we can say that Analytics surely plays an important role in galvanizing business strategies plus in making crucial business decisions.
5. Big Organizations Hire Analytics Professionals
A vast array of companies including IBM, Tibco, Pentaho, ITrend, Teradata, Karmasphere, Platfora,  Oracle, Datameer,  Opera, Centrofuge, Domo, FICO, Quid, Saffron, Jasper, Bluefin Labs Tracx, GoodData,  Panaroma Software are vying to get the best of skilled, talented and trained professionals luring them with fantastic pay and perk.
If you want to learn more about Data Analytics & its uses; then join Best Analytics course in Noida at CETPA. CETPA is an ISO 9001: 2015 certified training company which provides live project based training with assured placement assistance.