10 Reasons You Need To Start Online AWS Training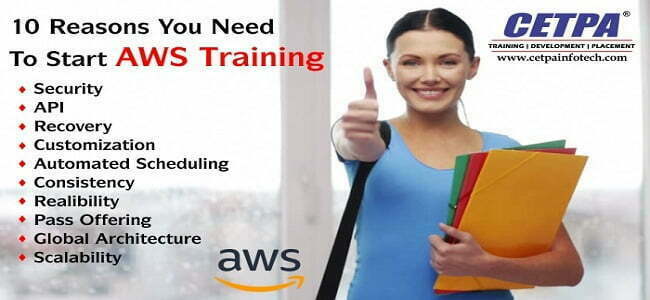 AWS is world most comprehensive and broadly adopted cloud platform. Millions of peoples trust AWS and power of AWS their infrastructure and applications. AWS stand for Amazon Web Services. AWS it comes up with something which is used by everyone in the industry from small startups to bog enterprises everyone sees Amazon as a trusted advisor.
When AWS are not available on that day if we have to post the application we need server. Server is too costly on that time nobody can effort easily. But still we can purchase. But sometimes server are down when we using it in that case we have to maintain the server and the maintains are little bit costly, there are some issue related to security and attacks. In server you to maintain in a daily basis and it's too costly. Our first priority is to make a business but due to server maintains we don't give that much attention to the business because we resolve the attacks. Amazon Web Services is secure cloud Service platforms, which purpose to implement them to resolve the all problems related to server.
Aws is a global cloud platform which allows you to host and manage services on the internet its used by almost 80% of fortune 500 companies to host their infrastructure and it has a lot of services which it provide to its customers there is an infrastructure service which means they provide fair server as a service so you don't need to manage or arrange  the backup and the power supply of the service.
WHY IT'S SUCH A BIG HIT:
Everyone is using AWS to put their applications on the cloud so what's the reason that AWS is the top provider and the top choice for doing anything on the cloud one of the biggest reason is the billing so the billing is very clear you get a per hour billing every instance or every service has a micro billing so be it instances on ec2 you get per hour billing rate which is very transparent even s3 buckets are charged on a per GB basis although I is storage service but still there is micro billing available there the sign up process is easy you don't need to sign any agreement nothing you just go sign up with an email id add a credit card and you are good to go you can go from zero to 100 in just two minutes. You can launch your server big machine without buying hardware without procuring any hardware you can just be up and running in minutes so billing dashboard is very simple. You can pull out reports every month. For the cloud provider you need it to be stable it. Learn Why Is AWS Training The Next Big Thing?
WHY LEARN AWS:
Security
API
Recovery
Customization
Automated Scheduling
Consistency
Realibility
Pass Offering
Global Architecture
Scalability
Pricing

There Are Lots of Reason/Need to Learn AWS-
SECURITY: Now there has always been a debate as in whether cloud services are secure or not but AWS put all these debates to rest it provides you with security that meets the need of both small scale and large scale businesses but what it does is it provides you with complete security that means your business owners can focus more on the business goals and don't have to worry about the security part. There are so many compliance programs which help you to set your security better and also provide you with real time security.
API: AWS provide with various programming API's so if you are dealing with different programming module don't worry it will take care of that as well plus what it does is it helps you have a strong infrastructure programmatically you can launch instance you can take backups and also those AWS resources which would help you save time and money.
RECOVERY: Now I just discuss security and yes security is important but that does not neglect this point that is recovery the quite a few businesses in market which cannot tolerate downtime they have zero tolerance for it in that case having an application that serves a recovery purpose as well.
CUSTOMIZATION: Aws does is it gives various feature to customize your application send your infrastructure much better features like tagging or having user defined tags lets you manage and monitor your resources much much better. It gives you various option so you can't track your cost as well. Its customize your business much better.
AUTOMATED SCHEDULING: AWS snails with various instances and it is very important that you know when to start and stop these instances this is where automatic scheduling comes into picture since you can schedule instances much better your services like ec2 and RDS can function very well because you do not have to worry day being In a running state when there is a downtime or when the traffic is very low..
CONSISTENCY AND RELIABILITY: AWS is an extremely useful platform when you talk about backups and disaster recovery that is why it is highly reliable and it gives you negligible outage and very less downtime because there was a time once when the outage was very high but it has dropped down a lot and they have been no outages the server in recent time its prove that it provides you better reliability compare to other services.
PASS OFFERING: AWS is highly scalable and it replicates this feature into various other services which AWS provide you, i.e. we have database we have cashing issue we have data warehousing transcoding storage and even application management now all these things can be scaled up and down very easily and very efficiently using AWS.
GLOBAL ARCHITECTURE: AWS is a global leader when you talk about cloud services and it has achieved that its wide reach thanks to global architecture it has various locations in the world where it has set up its data centers and those locations are called regions and these center or reapplication hold their data and it is called Availability zone. For this facility you don't have facing any lagging downtime issues.
SCALABILITY: This is one feature on which AWS is highly because when you talk about cloud services you are never sure as in how many compute capacity you need or what is capacity for your computation and how much space would be using and these things they vary on real time basis. AWS provides you high scalability you can go and use those resource which you want. AWS is highly flexible and its meet your all scalability.
PRICING: In AWS pricing is very important point, Money is important to everyone and if we talk about businesses if you can optimize your money there's nothing better for you what an AWS does is it serves all your purposes. If you students its gives you access to all AWS resources and lets use those freely for one year. There is certain data limit but definitely serve your purpose when it comes to just learning but for business don't worry you have a model called as Pay-as-you-go what that means is you pay only for those resources and those which you use.
There are various Training Institute who Provide Online AWS Courses in Multiple IT Fields.  IT sector is the most trending sector in today's market. Some of training institute provide lots of benefit including courses materials. Online Training is the best medium of training. There are many good institutes in India which provide very good services. The scope of AWS is huge in India and abroad companies because of its ability to run on variety of Application Platform. These institutes focus on training the candidates in the best possible manner so as to make them a perfect. The most important advantage of doing the Course at CETPA is that you can study for the Course and the various Certification preparations that the institute offers while sitting in any part of the country.
There are some courses under AWS which you can learn: